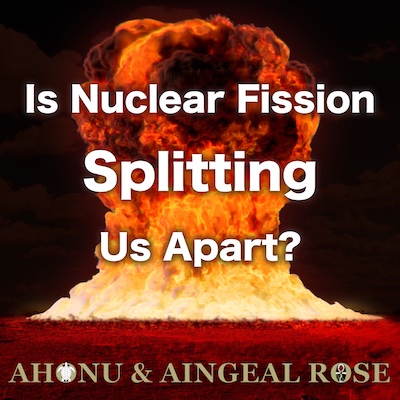 Aingeal Rose dropped a bomb in a metaphysical meeting during the week. She asked, "Is Nuclear Fission Splitting Us Apart?"
This episode explains nuclear fission and nuclear fusion, but more importantly, what it means for the collective consciousness of the people on Earth, especially in this time of volatility between the US and North Korea.
Ahonu explores how our leaders reflect the consciousness of the people and in this case, how President Trump is reflecting our split minds.
Ahonu & Aingeal Rose, as always, offer several ways to grow in awareness and to build mindfulness in these troubled times. They outline ways to be in the moment and to nourish each other's highest, heroic desires.
In the last episode, you can find out if evil is on its way out. Find out about what to do to bring Heaven to Earth, and how to merge realities and how past masters affect us in the here and now.
You can listen to all the podcasts on iTunes, on Google Play, iHeart Radio, or Stitcher Radio                                                                                  
Twin Flame Productions LLC
Website | Newsletter | Consultations